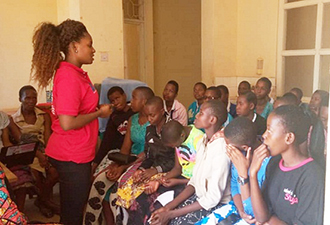 The DREAMS Innovation Challenge (DREAMS-IC) ("NITUNZE PROJECT") is a one year consortium project funded by USAID through ICS Africa. (September 2017-September 2018) The project seeks to address HIV and AIDS drivers i.e. poverty, Gender inequality and harmful traditional practices, Gender-Based Violence and Violence against children, and limited community engagement and support and an inadequate government response. Poverty is a major driver of HIV/AIDS. The goal of DREAMS Interventions is to reduce new HIV infections among Adolescent girls and young women (AGYW) ages 15-24 by 40% by 2020. Rafiki-SDO is implementing this project at four wards of Kahama district council including: Ngogwa, Wendele, Kinaga and Busoka.
The project is having main four interventions:
• Economic strengthening: Rafiki-SDO is collaborating with Agrics in all 4 project wards to mitigate poverty as a driver of HIV, Agrics provides smallholder farmers with quality farm input on credit and agronomic training. Rafiki-SDO is playing a greater role of identifying Vulnerable Adolescent girls and young women aged 15-24 who are out of school. After identification, their families (parents) are empowered through provision of farm inputs thus when parents have increased income it will benefit the identified AGYW indirectly. • HIV Prevention: The identified AGYW are provided with HIV prevention education, linked with the formal (government health facilities) health care services by TRCS (Red Cross Tanzania). Trained community- based HIV and AIDS services providers are used to provide HTS to AGYW and their parents. • Skillful parenting: Parents and AGYW identified will be provided with skillful Parenting under the supervision of ICS Africa. Rafiki-SDO has identified and train community facilitators who deliver 5 skillful parenting sessions to parents and young women identified by the project. Trainings are provided in low doze high frequency mode through a designed manual adopted from ICS. Parents have their own groups for training and young women are also trained in separate groups. • Mentorship: Rafiki-SDO in collaboration with ICS Africa will train AGYW's role model in each village of project ward. Each village will have 3 mentors where AGYW will seek advice in case of anything. Criteria to be used to select mentors include: She should be from the indigenous community, the woman with good living standard regardless of coming from poor /indigenous community, she should be selected by AGYW as they trust her.
Expected outcomes of the project
Strengthened livelihoods for 1000 parents by Sept. 2018 in 4 wards of Kahama Town Council, Improved parenting practices for 4000 AGYWs by Sept. 2018 in 4 wards of Kahama Town Council, Enhanced HIV prevention among 4000 AGYWs by Sept. 2018 in 4 wards of Kahama Town Council.